-Basics-
Name: Alli
Age: 18
Sex: .. Please? Female.. Last time I checked. :P
Location: Canton, NY. .. It sucks, don't stalk me, it's a waste of time.. No, seriously!
Picture (Optional)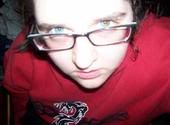 -Favorites-
Favorite..
Movie: Thirteen
Song: Bad Day - Daniel Powter, Crash - Gwen Steffani
Actor: Sean Connery
Actress: My. Fucking. Self.
Band: My Chemical Romance
Individual singer: Gwen Steffani
TV show: .. Music channels.
Soda: Gatorade. >/
Cartoon Character: SNOOPY!
Color: PINK
Food: .. None. I hate it.
Super-hero: My Mommy. <3
Candy: Gum. Gum.. bubble gum.
Animal: Kitty cats. <3
Quote: "I might be fat, but I can lose weight. You're stupid, and you'll never be able to lose that." - Gramma

-Other-
Most interesting trait: My left eye is half-blue and half-brown
Where'd you hear about LetsGetHitched?: I was searching interests on lj..
Any suggestions?: This is pretty cool, so not yet anyway. :P
Anything else you want to say about yourself?: ... I'm fun?